PAIN RELIEF IN A BOTTLE...
Soothe Pain in 5 seconds to 5 minutes!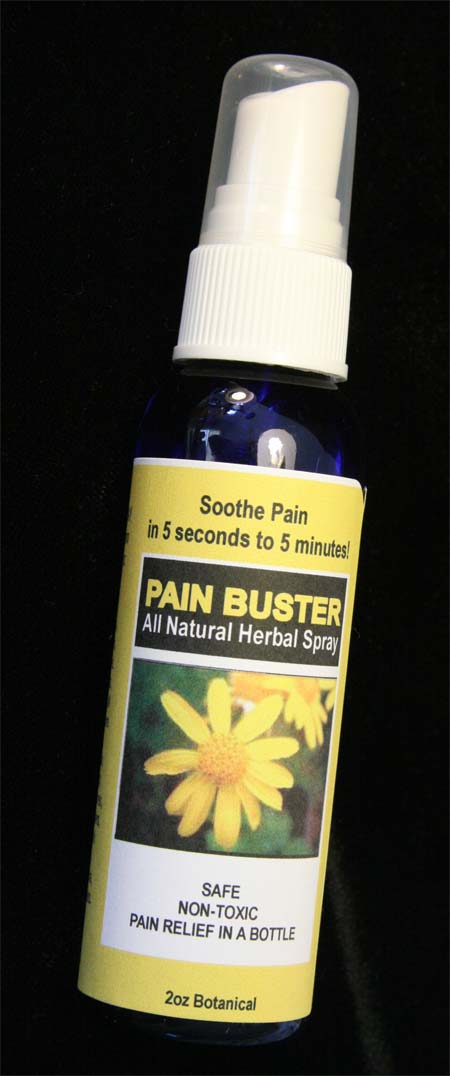 Pain Buster
an all natural herbal spray
SAFE. NONTOXIC. TASTELESS.
For everyone from babies to seniors.
carpal tunnel, aching knees,
monthly cramps, all rashes,
bruises, sore muscles, TMJ,
sunburn, joint pain, bug bites,
poison ivy, acne, sores, sprains,
burns, blisters, skin ulcers,   itching,
denture pain, teeth braces,
headache, stress, after shave,
massage therapy, dry skin, and more.
All natural ingredients include: Arnica, Calamus, Cassia, Cherry Plum,
Balsam, Pau D'Arco, Rock Rose, Star of Bethlehem, Traveler's Joy all in Spring Water
Helps balance energy in painful areas of your body so your body can do what it does best--heal itself.
ORDER YOUR BOTTLE TODAY $24.95
INCLUDES SHIPPING & HANDLING

ORDER 6 BOTTLES & SAVE!  
100% Money Back Guarantee
The Pain Buster Spray has so many uses, it should be in everyone's first aid kit. It may even help improve sleep by just spraying it under your tongue or onto your   forehead, top of head, back of neck or behind each ear.   Spray temples, hands and feet which are important reflex areas.   Helps your body to relax, let go of tension and heal!
"I gave that   gave that 'pain buster' spray to my mother. She's had a zillion tests on her heart because she has a pain in her chest but the doctors find nothing wrong. On Thanksgiving I saw her and she was having a particularly bad day with the pain. We sprayed the 'magic' on and 1/2 hour later she told me she was feeling better. I keep telling her to continue to use it but she says she's feeling better now. She's 84. Thank you." -- Marianne L, Naples, FL
Lester talks about using the Pain Buster Spray for a pain in his hand

I   try every product personally befor
e
I offer it to you. I love having this one on hand.   It relieved my shoulder pain from tennis,   my headache from dehydration, and even a toothac
he! Plus it seems to lessen wrinkles, probably because I believe it reduces stress!
Now I always carry a bottle with me and use it daily. -- Peggy Sealfon
100%   Money back Guarantee.   If you're not completely satisified, please return the bottle to us and we'll refund your money.
The manufacturer stands completely behind this product.   We have found that the only time the spray doesn't "seem" to work is when someone isn't spraying the right place.   For instance, you may have a lower back pain but the cause might be a problem in the middle of your spine.   Or tingling in the fingers might be from an issue in your neck. Sometimes if you're not not sure, it helps to spray your ears (where so many meridian points come together) or the bottoms of your feet (reflexology)