One-of-A-Kind Creations
These are unique jewelry pieces, made with natural gemstones that have not been treated or dyed. They are designed for wellness, to balance and harmonize energies in our bodies and calm and center our minds. Stonewater Studio Jewelry for Wellness is intended to help you look good and feel good! Designs will only be featured on this page if they are still available for purchase. Email or call for pricing on any piece you're interested in.
Contact: info@stonewaterstudio.co
 

TURQUOISE SET

 

 

BRACELET with Amazonite

 

 

Hand-made with Amazonite and Sterling Silver. Alleviates muscle spasms, exhaustion and stress. Is very calming.

 NECKLACE with Agate, Sunstone, Amethyst

Agate wrapped in sterling silver with sunstone and amethyst. Agate is good for self-expression, creativity, health and good fortune. Sunstone instills optimism, increases strength and vitality. Brings good luck. Amethyst is associated with balance, healing and positive transformation.

NECKLACE with Amber and Mookaite

 

Amber helps cell regeneration; detoxification and protects from by absorbing negative energies. A stone of prosperity. Mookaite strengthens the immune system and helps the body heal.

NECKLACE & EARRINGS   with Rubies, Polyhedron Quartz, Moonstone

Ruby is a powerful energizer; increases stamina and is associated with the life force.  Moonstone is helpful during times of change. Quartz amplifies, focuses, stores energy.

 

HONEY DROPNECKLACE with Turquoise & Amethyst

Turquoise and Amethyst combine for the most immune boosting combination. Both are very healing and balance gemstones and bring a sense of calm and well being.

 

PICTURE JASPER POSITIVITY SET





Dissolves negativity. Restores peace and harmony to the body. Combines Picture Jasper and Hematite.




 
Turquoise & Tibetan

Turquoise & Copper Swirls

with Chain Maille  
All designs are made by hand.   I work with a Graduate Gemologist to insure quality. The gemstones are cleansed through a saging process and are charged in sunlight or in the light of the full moon to imbue them with their natural, powerful energies. As a Reiki Therapist, I also infuse each design with healing, balancing energies.  -- Peggy Sealfon
If you're interested in any of these designs,   just email your interest.   Please include your name and the name of the design you would like.   Email me at: Peggy@StonewaterStudio.com
COSMIC COPPER COLLECTION
Coiling Cosmos Necklace with Amazonite & Turquoise
Cosmic Calm Spiraling Necklace with Turquoise, Copper & Quartz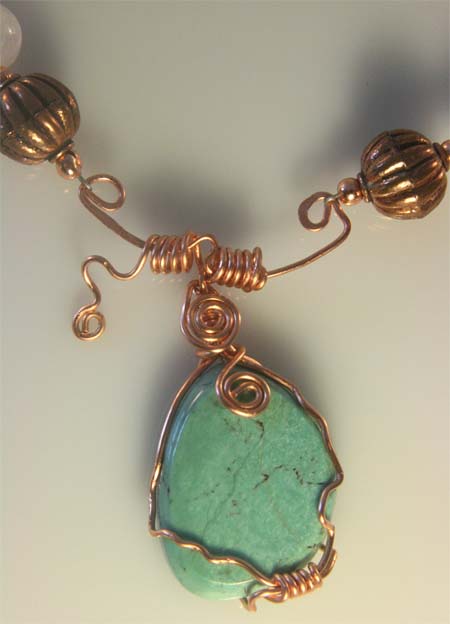 ARTFUL DROPS NECKLACE with Malachite & Onyx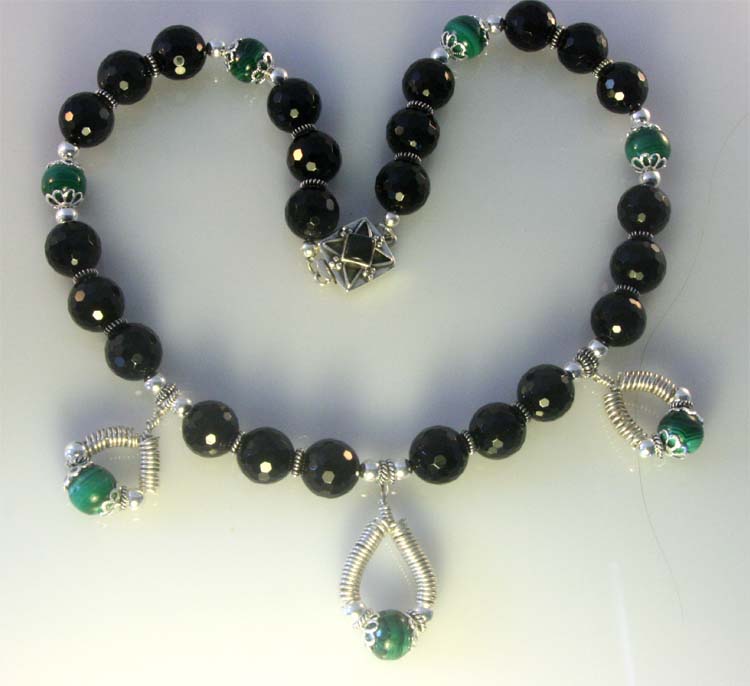 HOPE NECKLACE
Comes with matching earrings
Black faceted Spinel with Pearl and Sterling Silver accent